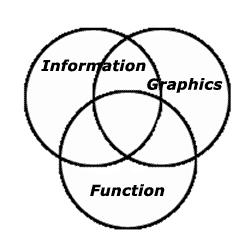 Design Theory
A quality job in website production involves the judicious balancing of three disciplines:


Information

design,

Graphic

design, and

Functional

design.
We want our web sites to be easy to navigate, nice to look at, and work the way we want.
Many people inadvertantly choose to ignore one or more factors in their design or choose a team that lacks one of these skills. Here at

WebSavvy Solutions

we understand the need to balance art and science. We have partnered with local professionals to deliver the "best of breed" skills to your project for a reasonable cost. With experts in each area, you are assured

a great web site!

Contact us a description of your ideal web site and we will get started on a quote.
Example web sites:
Paige Equipment - Farm, orchard, and lawn equipment and service.
His Way House - Local Christian half-way house.
Safe Pay Events - event payment processing site.
Anthony Giordano Beverages - Local Birch beer bottler.